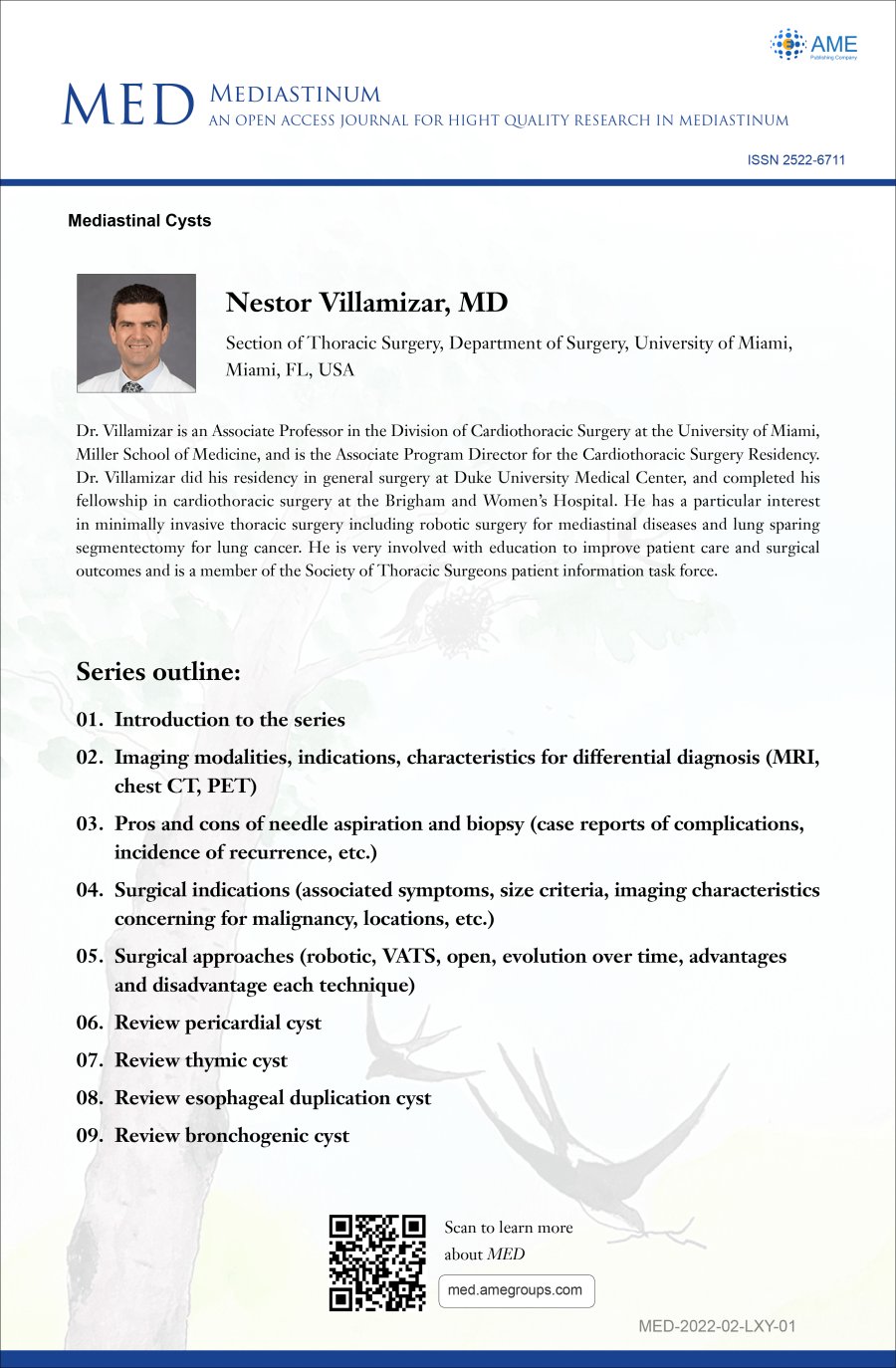 The series on "Mediastinal Cysts" is edited by Dr. Nestor Villamizar (University of Miami, USA). This series will discuss the diagnosis and surgical management of mediastinal cysts and provide reviews on various types of the mediastinal cysts, including pericardial cyst, thymic cyst, esophageal duplication cyst, and bronchogenic cyst.
Nestor Villamizar, MD
Section of Thoracic Surgery, Department of Surgery, University of Miami, Miami, FL, USA
Dr. Villamizar is an Associate Professor in the Division of Cardiothoracic Surgery at the University of Miami, Miller School of Medicine, and is the Associate Program Director for the Cardiothoracic Surgery Residency. Dr. Villamizar did his residency in general surgery at Duke University Medical Center, and completed his fellowship in cardiothoracic surgery at the Brigham and Women's Hospital. He has a particular interest in minimally invasive thoracic surgery including robotic surgery for mediastinal diseases and lung sparing segmentectomy for lung cancer. He is very involved with education to improve patient care and surgical outcomes and is a member of the Society of Thoracic Surgeons patient information task force.
Series outline:
Introduction to the series
Imaging modalities, indications, characteristics for differential diagnosis (MRI, chest CT, PET)
Pros and cons of needle aspiration and biopsy (case reports of complications, incidence of recurrence, etc.)
Surgical indications (associated symptoms, size criteria, imaging characteristics concerning for malignancy, locations, etc.)
Surgical approaches (robotic, VATS, open, evolution over time, advantages and disadvantage each technique)
Review pericardial cyst
Review thymic cyst
Review esophageal duplication cyst
Review bronchogenic cyst
Disclosure:
The series "Mediastinal Cysts" was commissioned by the editorial office, Mediastinum without any sponsorship or funding. Dr. Nestor Villamizar is serving as the unpaid Guest Editor for the series.